MARCHING BAND UNIFORMS DO'S AND DON'T'S
SHORTS
White athletic shorts are to be worn under the white marching bibbers – These are the LONGER athletic shorts that are available at both Wal-Mart and Target (see below) and cost less than 10 dollars. They need to fall to at LEAST mid-thigh. GIRLS – PLEASE NO SHORT SHORTS! You may need to purchase the athletic shorts that are in the men's department in order to get the proper length. They need to be solid white or LIGHT gray without logos on them.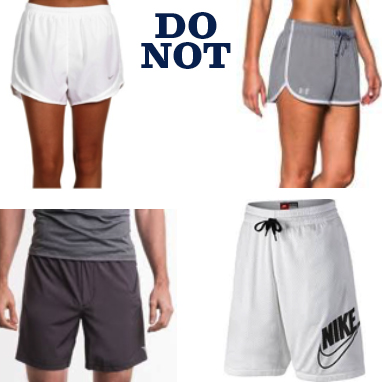 SOCKS
Crew Length White Socks – These are the LONGER socks. NO ankle socks please.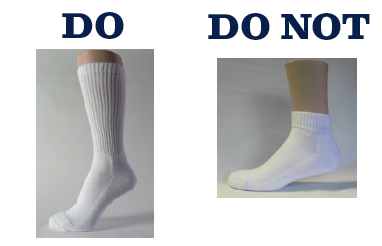 SHOES
Students can purchase marching shoes from the shoe vendor on Uniform Fitting Day. Students are sized by the vendor representative and a group order is placed. The shoes are delivered to the Buckhorn Band Room and students will pick them up.   If the student cannot attend Uniform Fitting Day, they will need to go to Gadsden Music on Whitesburg and order their shoes prior to marching season. Shoes are to be well maintained and CLEAN (including the laces). Mr. Clean Magic Erasers work great as does white scuff polish.
HAIR (FOR GIRLS AND GUYS WITH LONGER HAIR)
Hair must be worn in a top knot/ballerina bun on TOP of the head. This is so hair can fit inside of the shako.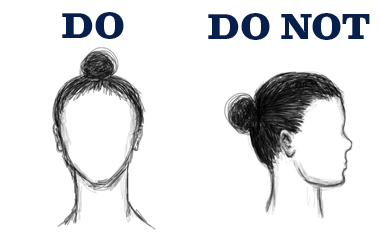 GLOVES
Gloves need to be white, cotton and longer version. Brass wears full gloves. Woodwinds wear fingerless and will cut fingertips off themselves (see a woodwind captain or leadership member for instructions). These can be purchased from music stores individually or by the box. Gloves are also available from Mr. Souder DURING SCHOOL for $3.00. GLOVES PURCHASED AFTER SCHOOL ON A GAME DAY OR COMPETITION DAY WILL COST $5.00. Gloves are to be CLEAN! If gloves are deemed unacceptable in appearance, you will need to purchase a replacement pair.