Buckhorn High School Musical & Visual Ensembles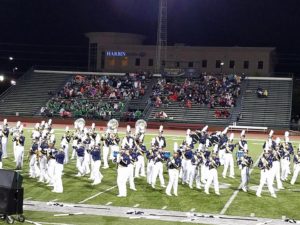 *Football Band students will follow the same schedule as Competition Band marchers and be involved in the entire process, helping with logistics and involved throughout.  These students will not need to wear the uniform and should plan to wear tennis shoes, khaki shorts, and the band shirt.  Competition Band marchers...
Read More
I just sent the following email through CHARMS a few minutes ago, as we have been informed that the CHARMS email send issue has been fixed.  Therefore, all parent and student addresses should be receiving emails through CHARMS once again.  However, I'm sending it through our Gmail address book just...
Read More
This week:
Remember: cookout prior to Pep Rally.
If you can donate any of the following,
please email buckband.1vp@gmail.com :

12- 12 packs of sodas, cokes, Sprite, Dr. Pepper, Diet Coke (we already have water)

5 Large Lettuce Heads sliced for burgers 

14 Large sliced tomatoes

6 Large sliced onions 

5 Large jars of sliced pickles

4 Large squeeze mayonnaise

4 Large squeeze mustard 

5 Large squeeze ketchup

110 slices of cheese 

4-54 Count assorted Frito Lays Chips which can be bought from Costco
---
Volunteer Opportunities: We need Equipment Team Members, Chaperones, and EAA Breakfast and lunch crews. Sign up at Charms.
---