WHAT YOU NEED TO KNOW
1) Students will arrive in DESCENDING order this year. We are doing this in order to get some of the smaller uniforms back into circulation for the underclassmen.  The schedule is as follows:
9:00am — Seniors
10:00am — Juniors
11:00am — Sophomores
11:30am — Freshmen
We will have the Freshmen arrive a little earlier than noon so as to turn in their paperwork.
2) Students will turn in their paperwork on this day if they haven't already.  This paperwork is available on the website (www.buckhornband.com/parents/documents).  The Out-of-County permission form needs to be notarized. You will also receive your student's Charms ID/Password if you do not have it already.  You will also receive your uniform fitting sheet.  YOU MUST KEEP THIS WITH YOU THROUGH THE ENTIRE PROCESS.
3) Students need to arrive in under uniform attire.  The under uniform attire consists of: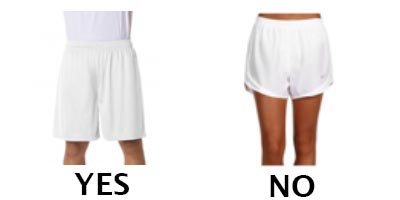 * White athletic shorts — These are the LONGER athletic shorts that are available at both Wal-Mart and Target (see below) and cost less than 10 dollars.  They need to fall to at LEAST mid-thigh.  GIRLS — PLEASE NO SHORT SHORTS!  You may need to purchase the athletic shorts that are in the men's department in order to get the proper length.  
* Crew Length White Socks — These are the LONGER socks.  NO ankle socks please.
* Band Shoes (if you have them) or athletic shoes
* T-shirt — This can be a past year's show shirt or just a generic t-shirt.
* GIRLS AND GUYS WITH LONGER HAIR — Please have your hair up in a bun on top of your head or bring a hair tie to do so.  This is for your shako fitting.  
4)  Gloves can be purchased at local music stores (Hallman's, Gadsden Music) and can be purchased individually or by the box.
5) The students will be directed through the process by volunteers.  Once they have their uniform completed and altered, anyone needing band shoes will be able to purchase them on the way out.  They will need cash or check for this and the check needs to be made out to the shoe vendor.  
PARENTS: VOLUNTEERS ARE NEEDED FOR UNIFORM FITTING DAY. PLEASE CLICK HERE TO READ MORE